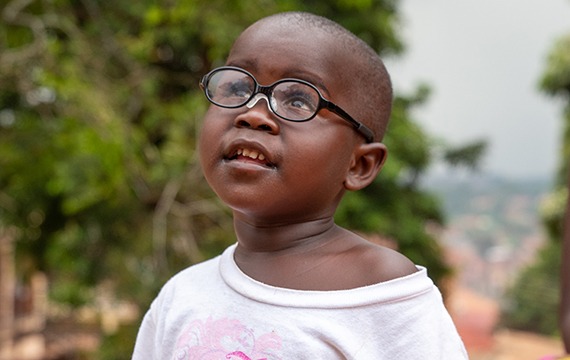 Two-year-old Benjamin was born with congenital bilateral cataracts. The youngest of five children and, unfortunately, not the only one in his family living with blindness. His older sister and both parents also have vision loss. Daily life for this family is a struggle.
Benjamin suffered from social isolation and was often not in the best mood. He was a very sad little boy. Local children bullied Benjamin because he was blind. He would cry out for his mother Gladys, or his father Steven, to come and rescue him but often they were unable to help, simply because they could not see where he was!
Then everything changed. Thanks to generous monthly gifts from cbm Child Sponsors, Benjamin was found, and received professional cataract surgery to restore his sight at the cbm-partnered Mengo Eye Hospital in Kampala, Uganda.
Benjamin is no longer the sad little boy, sitting by himself, while children taunt him. His tears of rejection and loneliness are gone, and replaced with smiles, laughter and mischief. He can now run and play, keeping up with the other children.
This one child represents the many children you can help when you become a cbm child Sponsor. You will enjoy seeing the impact your generosity can have on the lives of children like Benjamin.
Become a cbm Child Sponsor today and help more vulnerable children like Benjamin overcome the double disadvantage of poverty and disability.