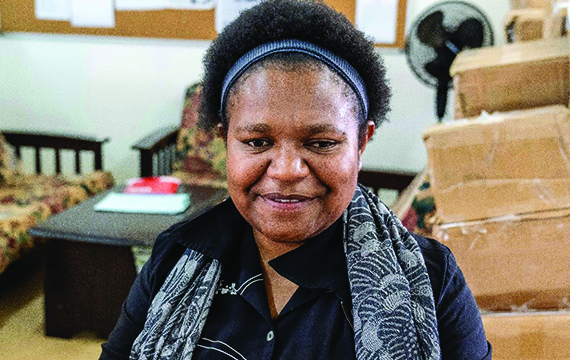 "Take hold of instruction; do not let go. Guard her, for she is your life." – Proverbs 4:13
Thanks to generous people like you Clency has big dreams. At 21-years-old, she is studying political science at a university in the Highlands of Papua New Guinea (PNG). With a soft calm voice and a broad smile on her face, Clancy told cbm of her plans to attend law school in Port Moresby and become a human rights lawyer. Her vision is to support students with disabilities in PNG, by producing law and policy that promote their human rights.
"I am very optimistic, and I believe I have a future in law, I will make it happen".
Clency is blind. Her vision started to deteriorate when she was 9 years old, and within two years she was no longer able to read. Thankfully, her parents had heard about cbm's local partner in PNG, who identify children early, and put supports in place so they are prepared at school. The community workers linked Clency with specialised services which changed the direction of her life. But even so, Clency recalls that the teachers at her mainstream school didn't know how to teach maths and science to students with visual impairment. Determined, Clency taught herself these subjects with the support from cbm partners after school.
This sums up Clency; one can feel a real sense of determination from her. She is not going to let anything stand in her way. Unfortunately, Clency's story is not common enough in PNG.
However, Clency is a testament to the importance of cbm's work in PNG. She is thankful that this support is continuing at university as well. The lecturers are now very supportive of her and are using inclusive techniques. Clency's determination and character will ensure that she will achieve her dreams!