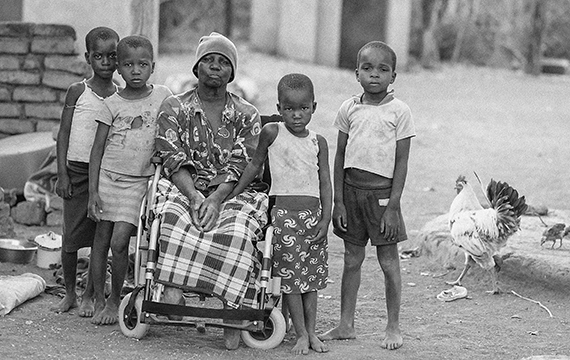 Zimbabwe is in the grip of a deadly food crisis. Millions are facing starvation. Please will you say "Yes!" and help do God's work with an urgent gift today?
"The generous will themselves be blessed, for they share their food with the poor." – Proverbs 22:9 NIV
As we try to contain the spread of the COVID-19 in New Zealand, it's saddening to talk about another ongoing crisis in Zimbabwe. Can you imagine what starvation feels like for these children?
You see, Zimbabwe is now in the grip of the most serious and destructive food crisis it has experienced in a decade. The UN estimates that more than a staggering two million people are facing starvation.
Not hunger… but death by starvation! Over two million people!
But I don't want you to think about that frightening number today. Because the only number that really matters is one.
One heart. One gift. One child.
Because while you may not be able to stop crops from failing, your gift can help provide the vital food a child urgently needs. By supporting the Zimbabwe Food Crisis, you can save a child's life. It's that simple. You see, a gift sent today can rush urgent help to save a child before the week is out. So every single day counts. Please call 0800 77 22 64 or visit cbmnz.org.nz to donate now.
In the news, they call it a "Food Crisis." But those two words tell you nothing about the horrors unfolding in Zimbabwe right now. Picture a little girl experiencing her concentration fading, her muscles weakening and an unrelenting, incessant pain in her stomach that follows her everywhere.
Imagine the fear her mother feels as she sifts through the dust around her home, hoping to find enough stray grains of millet to make her little one a cup of porridge. Knowing that it's a matter of life and death. This may sound difficult enough, but this was before the drought that caused their crops to fail again and again.
Before the freak cyclone that washed away seeds they planted, houses they lived in and livestock they depended on. Before food prices rocketed and their stomachs began to growl in protest. That's what "Food Crisis" means to a mother in Zimbabwe right now. And to families already trapped in poverty. Hope rests in your hands. Please will you give as generously as you can today, guided by your heart and prayer, to help those most in need.
In fact, there are three key ways your loving kindness can soon be saving a child's life in Zimbabwe, and giving them a better future too…
…by giving children and families living with disabilities life-saving emergency food supplies to help them survive this crisis.
…or by providing a family with access to clean water, keeping them safe from killers like cholera and dysentery.
…or by purchasing breeding goats so in the longer term families have a source of milk, income and a pathway to future self-sufficiency.
The more you can give, and the faster you can send it, the greater good you can do. People with disabilities – especially children – always fare worse in disaster situations than others. Their families often cannot reach food or water supplies as quickly as other families. Fleeing from a crisis zone can take longer, and is more fraught with danger. And they are always at the back of every queue for emergency supplies.
That's why, in partnership with you, cbm always put people with disabilities first. Because they need us most. And because they are the mothers and fathers and grandparents and children that God would want us to help first. They urgently need help from people who care. People like you. That's why your support is needed today to reach people suffering the double disadvantage of extreme poverty and disability in the midst of this terrifying crisis.
So please look into your heart, and then reach out to save a child from starvation.
Please send your urgent gift to save the lives of children and families in Zimbabwe before it's too late.
With every day that goes by, the situation in Zimbabwe worsens. Families and children with disabilities are already facing a life and death struggle, so please do not delay sending your kind gift. Every day and every dollar counts.