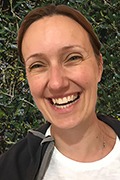 Board Member
Geraldine joined the Board in 2020 and is on the Personnel and Compensation Committee. Geraldine is a solicitor, and currently works in-house as an employment lawyer for a large public sector organisation. She has a Masters degree in International Development from the London School of Economics, and a passion for the poor and marginalised in the majority world. She has volunteered in New Zealand and London with various charities, and spent time volunteering in Thailand, India and Myanmar.
Being involved with cbm provides an opportunity for Geraldine to use her professional skills in a context that seeks to show Christ's love to some of the world's forgotten individuals.
Geraldine lives in Auckland with her husband and toddler. Her son has cystic fibrosis which has given her an insight into the world of disabilities, albeit from the privilege of being able to freely access excellent medical care.