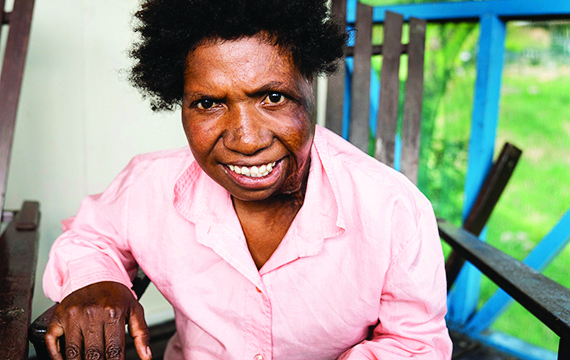 "For I know the plans I have for you," declares the Lord, "plans to prosper you and not to harm you, plans to give you hope and a future." – Jeremiah 29:11
When 18-year-old Opa was just a toddler she fell into a fire pit, and a pot of boiling water tipped over her. The water severely burnt the left side of her body – burning her face, arms, hands and upper torso – and leaving her with significant scarring.
As Opa grew, the scars constricted, becoming tighter and tighter. Her left hand became twisted, severely limiting its movement. The scars around her face and neck started to pull her head down towards her chest, completely restricting her movement. She was in chronic pain and was unable to move or walk well.
Her family took her to see a Doctor in town, who informed her that she needed to have an operation to relieve the contractures, but this would be very expensive and it was unable to be performed at that hospital. The family had to make a heart-breaking decision, either travel to Port Moresby and pay for the operation, or continue to send Opa's four brothers and two sisters to school.
They decided to send the children to school.
This had a dramatic effect on her life; she lost her independence and her ability to interact with others. She continued to go to school, but it was challenging, and her studies were suffering. She was unable to do chores and other than going to school, she would hardly ever leave the house because it was becoming too difficult and painful to move.
Fortunately, through the generous support from people like you, a cbm community-based outreach worker visited their village. The cbm field worker knew that they could help, and accompanied her to the community-based rehabilitation centre in Mingende. At the centre, a cbm orthopaedic Doctor was visiting, and assessed Opa's scars. The Doctor felt she would benefit from surgery to reduce the pulling of the scars, and during the cbm-funded operation, the Doctor released the strictures on her neck and grafted new skin to reduce further scaring. This hugely improved Opa's range of movement. She was able to walk and move again without pain.
Opa's follow up care has been ongoing. Every week a cbm community-based outreach worker visits her house to perform physiotherapy with her.
Thanks to generous people like you, Opa's life has changed incredibly since the operation. She is about to finish school, and she wants to go to university and study to become a scientist. She has a busy social life and loves hanging out with friends and joking around.