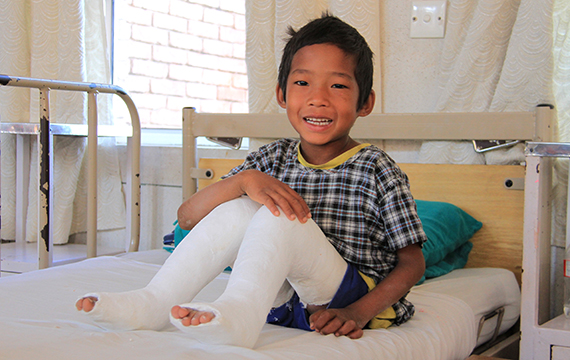 At five years old, Ramsaran would watch his older siblings disappear down the mountainside to school. He was heartbroken that he could not follow them.
With his feet bent painfully inwards, he was identified to have clubfoot in both feet, and because of this he spent most of his time alone.
"For I will restore health to you, and I will heal you of your wounds, said the Lord." – Jeremiah 30:17
Living in poverty, his family was unable to afford the treatment that they knew he needed.
Thanks to generous cbm supporters like you, our projects can send out people who care. People who represent your heart in the field.
A cbm field worker named Sumitra went out to meet Ramsaran and his family.
"I want to run and play…I want to go to school."
Sumitra assisted Ramsaran to access the services available at a cbm-partner project, and he was scheduled to receive treatment at no cost.
The six to eight-week Ponseti treatment involved a series of corrective plaster casts being applied and changed at weekly intervals. Then, after receiving a small surgery to release his heel cord, Ramsaran was finally fitted with special shoes that would maintain the correction achieved. Also provided with crutches and physiotherapy as part of his post-operative care, he attended an in-clinic school for the very first time.
Today Ramsaran can walk. He is receiving an education and his life looks much more hopeful than before. This is the difference your support can make.