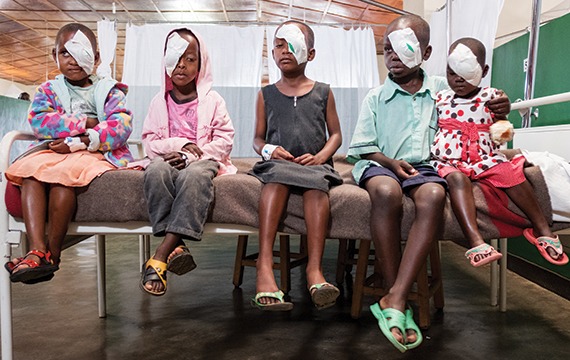 cbm celebrates important Eye Resolution passed by the United Nations.
In late July, the United Nations General Assembly (UNGA) adopted a resolution committing the international community to eye care for the 1.1 billion people living with preventable sight loss by 2030.
The resolution came about after years of endeavour by the International Agency for the Prevention of Blindness (IAPB) and the United Nations Friends of Vision Group. cbm has played a part in lobbying for the resolution and is using its 100+ years of experience in the eye health sector to inform and demonstrate change.

For cbm this resolution allows a stronger mandate in the design and implementation of cbm programmes to help ensure eye health is integrated into national health systems, which is the approach cbm's Inclusive Eye Health Initiative adopted in 2017. This opens the door for more advocacy in countries in which cbm works to further embed eye care into policies and services. As a result of this resolution, decision makers can now be called to account if they do not work to the very best of their ability to meet the collective goal of eye care for everyone by 2030.

Sight loss is calculated to cost the global economy $411bn in productivity each year.

This important resolution is the first agreement designed to tackle preventable sight loss and will be adopted by the United Nations to enshrine eye health as part of the United Nations' Sustainable Development Goals (SDGs).