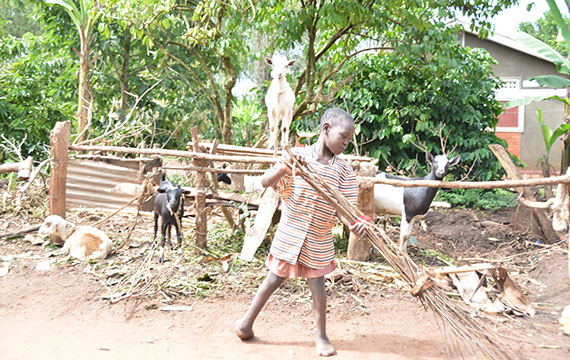 Give the gift of movement today. So young girls like Viola are never left behind again.
Psalm 40:2 says, "He lifted me out of the slimy pit, out of the mud and mire; he set my feet on a rock and gave me a firm place to stand."
Sadly, Viola knows all about slimy mud and mire. Rainy season in her village makes having clubfoot even harder. For 11 years she has been struggling every day in pain. Now is the time to lift her up and give her the chance to stand without pain, for the rest of her life.
Viola's story is a beautiful one of love that her grandmother, Joyce, has for her. For 11 years, Joyce has gone the extra mile, again and again, she has done so much. But she is too ground down by poverty and exhaustion, and because of this, she will never be able to take away Viola's constant pain and suffering.
Grandparents like Viola's cannot give their grandchildren the medical benefits we take for granted here in New Zealand. They urgently need you to help. Today, will you please consider sending a generous gift to help end the excruciating pain for children in Uganda like Viola.
When Viola was born, she had bilateral clubfoot. Her parents took her as a baby to a government hospital, but they had no facilities to treat and care for young children. Viola came home with her feet so badly bandaged, they began to rot!
Having a child with a disability was too much for Viola's parents to cope with. They abandoned Viola, along with her three siblings, and Grandmother Joyce has been raising them ever since.
Joyce started washing baby Viola's feet with herbs and warm water, constantly massaging and straightening them. She did this hour upon hour, for months, trying to make Viola's ankles straight.
After many months of love and care… a breakthrough… she miraculously managed to straighten Viola's left ankle!
Today, there is little sign that Viola's left foot was ever clubbed, but her right foot is still badly turned inwards. It has given Viola eleven years of constant pain.
Regardless, of all this pain and suffering, Viola has turned out to be such a sweet child. Despite her pain, she always tries to help her grandmother. When other children take the long walk to the water hole, Viola goes too, lagging far behind, but she never gives up.
Other children carry two water cans, one in each hand. That's impossible for Viola, but she insists on helping. Her brother places a heavy water can on Viola's head. She staggers under the weight. She grimaces with the pain, but she doesn't give in. It is heavy and it hurts!
Viola insists on carrying the water can home – for two kilometres! When she gets home her eyes are teary from the pain. "I am tired, my foot aches," is all she says. No complaints. She will do it all again tomorrow for her family.
Grandmother Joyce loves Viola so much. When other children shun Viola, even beating her and abusing her about her disability, using the most heartbreaking words, Joyce and Viola cry together.
All these years Joyce has lovingly walked the extra mile for this precious young girl, but now this devoted grandmother is so broken by exhaustion and poverty. She fears for Viola's future as she is beginning to show the first signs of becoming a young woman. This terrifies Joyce who knows what evil predators do to vulnerable girls who cannot run or defend themselves because of their disabilities.
"I am getting old. I may even die very soon," Joyce grieves. "I fear she will always need someone to help her. Viola's parents abandoned her. What will happen to her if she grows up to be a helpless woman?"
It's sad to hear this quote from Joyce, who has had to raise two generations. She is tired, worn out and hurts all over. What hurts her the most, though, is seeing Viola in pain.
"It leaves me in agony, when I see my granddaughter moving in that unbalanced way. She cries. She endures abuse from both adults and children. I feel as though someone is cutting my heart in pieces."
For some time Joyce has been trying to take Viola to the cbm-funded CoRSU hospital, in the capital city of Kampala, to access treatment. She knows Viola will get the help she needs, but sadly, she is not even able to save the bus fare. The climate has changed so much in Viola's short life, this has devastated their meagre garden crops reducing their income.
Joyce and Viola cannot reach help, so you can understand why a vital part of the support you provide is to fund cbm-partners to search for and find children like Viola. Recently a CoRSU mobile clinic, made possible by generous people like you, reached Viola's tiny and remote village.
Now Joyce and Viola can receive the vital help they desperately need.
Families like Viola's, living in poverty, cannot dream of paying for transportation and medical treatments, like a series of casts that will gradually straighten Viola's ankle or for surgery to lengthen Viola's tendon that will make her foot more stable. Let alone paying for braces, crutches and special shoes.
Joyce could never dream of funding all this. She would do it all if she could, but living in poverty means she's unable to. She has come so far, but Joyce can't heal Viola's right foot without medical treatement.
Please send your gift today to give children in Uganda, like Viola, a new start in life, free from excruciating pain.
So Outreach Clinics can search for and find children like Viola who need help and provide the funds, so they can get to hospital for treatment. Or give children the gift of movement, through crutches, leg braces and walking frames, so they can join in and play with their friends. You will teach children how to walk again through funding Physiotherapy. Or give a gift towards vital orthopaedic surgery to straighten limbs, so children like Viola are never again left behind or abused because of their disability. Your loving kindness will transform the lives of children like Viola, even now as we globally deal with COVID-19.
Joyce has done all she can for the granddaughter she loves so much, but she is unable to do more. Your support can lift up children like Viola, out of the mud and mire, and give them a firm place to stand, free from abuse and excruciating pain. Please send your gift today.